AOD Graduate Nawoda Bandara wins top prize at Graduate Fashion Week International in Dubai
Aod's fashion design programme sets the stage for rising global fashion stars
The Academy of Design (Aod) has long been celebrating the achievements of its fast-growing list of successful alumni making their mark in the global design arena, and now the country's pioneering design university has added yet another feather to its cap of international accolades with the most recent win by BA(Hons) Fashion & Textile Design graduate Nawoda Bandara.
Just earlier this week, Aod alumna Nawoda won the highly sought after International Portfolio Award at Graduate Fashion Week International (GFWi) held as part of the prestigious Dubai Fashion Week. The award was made open to graduating talent from across the world and out of over 3000 applicants and 28 participants, Nawoda was awarded the top prize for her collection NO RULES LIKE DREAMS.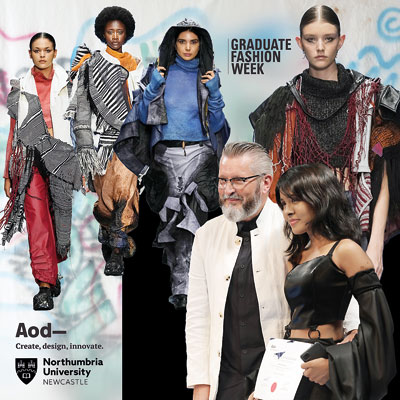 "It wasn't easy," comments Nawoda on her award-winning collection. "I did everything from pattern cutting to crafting by hand, alongside my freelance work. Though I couldn't be in Dubai physically, this collection embodies 3 and a half years of dreams and dedication. I hope to inspire future creatives to be multi-talented and show that beauty can arise from our mistakes and experiences."
Before this accolade, Nawoda was a Redress Design Award Finalist (2022), and semi-finalist of the Redress Design Award 2021. A designer who specialises in unisex, luxury, and street-wear fashion, through her designs, she tries to express emotions through her creations, while also attempting to bridge the gap between heritage crafts and sustainability with futurism and innovation.
"As a young designer, my ultimate goal is to create a pathway where people of all ages can explore their creativity and be recognised for it," she adds. "I want to unveil the hidden treasures of Sri Lanka, just as I've transformed my own hidden fears into art. My vision of fashion is different; it's about empowering everyone to be creative and inspiring people to do more."
Nawodha was closely mentored by AOD's Director of Academic Affairs and Senior Lecturer of the Fashion & Textile Design Department, Professor Thomass Atkinson, who proudly shares his experience leading to this great win. "It has been a joy to mentor Nawoda, as she has many qualities, as a Fashion Designer. Conceptually driven, instinctive, and intelligent. Her collection and design sensibility embody an adherence beautifully hand-crafted handloom, sustainability, and innovative methods of manufacture that combines an unfinished yet finished great attention to detail. She is also extremely confident in the communication of her work. Her portfolio – illustrations and technical drawing are unified with a strong sense of personal style they are contemporary, persuasive, compelling and technically competent'.
The role of a higher education institute in shaping global talent cannot be understated. With graduates as the workforce of the future, and competitions and showcases increasing becoming not just measures of skill, but also platforms for recognition and employability -especially in the design industry-, it is vital that young professionals-to-be are capable of not just tackling, but also coming out on top of the various challenges that come with a fast-evolving global landscape.
Professor Thomass Atkinson further highlights the importance of the university's exclusive model of design education in Sri Lanka, with the many initiatives and collaborations that influence also the course of contemporary creativity in South Asia and even the world.  "The students at Aod are immersed in a unique educational environment which unites design-led innovation with enterprise, and are part of an extraordinary talent-building eco system. Using the power of creativity through contemporary design, students are encouraged to endeavour to make a significant impact on the creative sector, rural crafts and communities, as well as social and cultural sustainability through their collections."
Ever since its inception in 2001, Aod has placed great emphasis on creating a talent-building ecosystem for growth and innovation; one that would both, provide a world-class and internationally recognised design education, and also instil a sense of competition, exploration, and ambition to produce peerless graduates from Sri Lanka.
Additionally, Linda Speldewinde, Founder of Aod, has made it her vision to deeply root all students to the country's rich heritage and craft tradition – advocating for the potential of Sri Lankan talent to take Sri Lankan artisanry to the global creative sphere through contemporary designs.
The university's enrolment campaign for 2023, for instance, is a reflection of this very conception. The New Global encourages aspiring creatives to broaden the horizons of the potential of local design and take pride in their cultural identity. By giving credence to local talent, skill, and craftsmanship, Aod also cultivates in its students the confidence that Sri Lankan artisanry and inventiveness belong on the global stage.
As witnessed by all of Aod's global fashion design stars, across all disciplines, Aod strives to instil principles of social and environmental consciousness, directing students to create products and innovations rooted in sustainability and circularity -harnessing the immense potential of design to drive positive change.
All of Aod's 3-year BA (Hons) Programmes are affiliated with the globally-ranked and award-winning Northumbria University, UK, as too are the BA (Hons) Fashion & Textile Design and the BA (Hons) Fashion Design & Marketing degrees.
With the BA (Hons) Fashion & Textile Design Programme – one of the most popular programmes at the academy- students are first familiarized with a diverse suite of fashion disciplines to both help hone their fashion interests, as well their confidence to finally establish and showcase their own signature brand of style. The course is a combination of tutorial guidance, project 'crits', lectures, competitions, live industrial projects, and placements, where students will get a hands-on education of the local and global fashion industry, through both expertise and portfolio.
With the BA (Hons) Fashion Design & Marketing programme on the other hand, students get to engage in all aspects of fashion studies, from research into fashion markets and their customers, to fashion forecasting, fashion graphics, illustration, photographic styling and promotional techniques, as well as design realisation projects through pattern creation and garment construction. This course provides as immersive exploration of fashion concepts, and products and promotions for future markets, with students emerging as well-informed and industry-savvy fashion marketeers.
Aod invites Sri Lanka's aspiring young fashion designers who have just completed their A/Ls -and their parents-, to learn more about the university's Fashion Design programmes, and of how they too can be next global star.
For more information please call 0775727772, email info@aod.lk, or walk in between 9am and 5pm Monday to Friday – Colombo Innovation Tower, No 477, R A De Mel Mawatha, Colombo 04. www.aod.lk