Get on the fast track for your Design BA degrees with AOD's post O/L Design Foundation Programme
For many students at the cusp of their higher education journey, the period between their O/Ls and A/Ls is a time of great indecision; having not completely convinced themselves of the course they want their lives to take. Others however, can already feel the surge of design and creativity running through their veins, confident that this is the career path most suited for them.
Students having just completed their O/Ls need wait no longer to pursue their dream careers, for The Academy of Design (AOD) -Sri Lanka's pioneering and most-trusted design institute-, has their entire design education pathway all mapped out for them. Having introduced its novel Design Foundation Programme, students can now after O/L completion and with pending results, enroll in the university's, fully-immersive, preparatory course, allowing fashion, interior, graphic design, and even animation students-to-be to develop the skills they need to succeed in their tertiary design education to follow.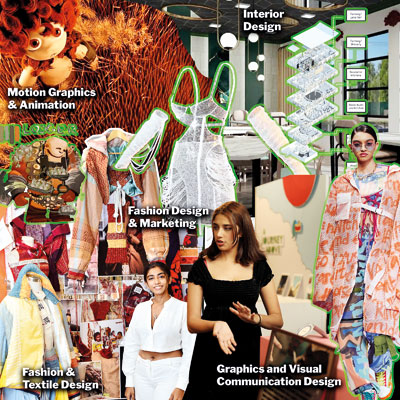 For a deep passion alone is not fuel enough to run the course in the competitive arenas of the design industry. The Design Foundation Programme will introduce students with the primary tenets of the various fields of design, taught by a qualified faculty of experienced tutors and visiting experts through workshops, lectures, and tutorials. The diverse portfolio of modules in the course includes Sketchbook and Journal Development, Design Thinking and Realisation, The Zeitgeist, Language of Design, Visual Style and Illustration, and World of Design Works; each segment giving students not just the practical knowledge, but also the confidence with which to get that head start for when they step into their BA Programme the following year.
Having laid the groundwork with the Design Foundation Programme, and now with a clearer vision of which design course is their true calling, students will then be able to embark on a fast track to the BA (Hons) Degree Programme of their choice; donning their graduation gowns only 3 years after having enrolled.
All of AOD's 3-year BA (Hons) Programmes are affiliated with the UK's Northumbria University, the syllabus for each set and overseen by the prestigious and globally-recognised educational institution. Through the BA (Hons) Fashion & Textile Design Programme, students will be able to hone their penchant for fashion, first familiarising themselves with a diverse suite of fashion disciplines to find the confidence to finally establish and showcase their own signature brand of style. With a BA (Hons) Fashion Design and Marketing on the other hand, students will delve into research in fashion markets, promotional techniques, and garment construction (among others), emerging at the other end of the course as well-informed and industry-savvy fashion marketeers. The BA (Hons) Interior Design course is for the student with an innate curiosity for spaces, who will then be provided with a hands-on learning experience through a range of well-rounded projects within the contexts of retail, exhibitions, and even furniture and artifact designs. One for the visual thinkers, the BA (Hons) Visual Communication Design encourages students to carve their own niche in a fast-growing field by providing every means and experience in the areas of branding, publishing, and image-making. Finally, with the BA (Hons) Motion Graphics and Animation Design, AOD opens up pathways for Sri Lanka's aspiring, young animators, by developing their unique skillsets across film, television, computer games, advertising, and new media.
AOD has its own unique eco system to create the designer of tomorrow and cultivates an interactive and engaging learning environment that caters to each student's individual requirements and competencies. Testament to the academy's exceptional educational model is its fast-growing list of successful alumni; some of whom have been positioned at the gates at some of most prestigious universities and firms, while others have gone on to make their own notable mark in the world.
AOD invites Sri Lanka's young design aspirants who have just completed their O/Ls, and their parents, to join in for an open day at Colombo Innovation Tower, on the 16th of September, where they can meet with the faculty, engage with students at the academy, get a more nuanced understanding of the creativity industry, and learn how we at AOD can help nurture and fuel your passion for design.
To register for the event, or for more information on how you can enroll for the Design Foundation Program, reach AOD Colombo on 0775727772, email info@aod.lk or walk in between 9am and 5pm Monday to Friday – Colombo Innovation Tower, No 477, R A De Mel mawatha, Colombo 4
www.aod.lk