AOD alumni Sahil Gunesekera and Alaanah Sallay merge multidisciplinary talent to win big at State Literary Awards 2023
The Academy of Design (Aod) is celebrating the success of not one, but two of its alumni winning top honours at the recently concluded State Literary Awards 2023. Sahil Gunasekara [2010 BA (Hons) Graphics & Visual Communication Design graduate] and Alaanah Sallay [2015 BA (Hons) Interior Design graduate], collectively took home the award for Best Page Design and Layout for their contribution to the recently published book: Malays of Sri Lanka.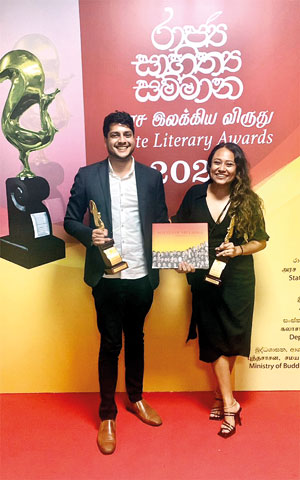 Held under the patronage of President Ranil Wickremesinghe and organized jointly by the Buddha Sasana, Religious and Cultural Affairs Ministry, the Department of Cultural Affairs, the Sri Lanka Arts Council, and the State Literary Advisory Council, the annual ceremony recognises Sri Lankan literary excellence across a wide range of categories – celebrating the outstanding contributions of authors and creators within the Sinhala, Tamil, and English literary sphere. While 41 awards were meted out, Sahil's and Alaanah's contribution were ranked best out of 2918 books and 43 other nominees for the Best Page Design and Layout trophy – a testament to both, their individual calibre of talent, and also the multidisciplinary nature of design degrees.
Sahil Gunesekera is currently Head of Design at Cinnamon Hotels & Resorts, now having accumulated over 10 years of professional and award-winning experience under his belt.
"When we started the project, we did not set out to win awards," commented Sahil on the win. "Our intention was to honour the trust the author put in our creativity to design the perfect book. Looking back , it is safe to say that we managed to do just that. It was the dream collaboration."
"I owe a great thank you to Aod for laying the foundation of design principles and idea generation in me," he added. "All that I was taught gave me the skillset and also inspired me to develop design processes that made what was already an amasing book, an award-winning success."
Aod's BA (Hons) Graphics & Visual Communication Design degree introduces students to the role of a professional designer as a visual thinker and a versatile problem solver. It encourages the development of concepts, research, experimentation, analysis and critical awareness in aspiring designers. The programme provides a fully rounded experience in graphic design while allowing specialisation in the areas of branding, publishing or image-making.
Currently an Independent Contractor at Oceans XZY, Alaanah Sallay kicked off her tertiary design education at Aod, acquiring over 3 years of professional interior design experience until she decided to make the switch to graphic design in 2019.
"This was a huge honour for me, seeing as I came from an interior design background," said Alaanah. "There have been many moments where I have doubted myself and my decision, but this just proves that if you love what you do and are passionate about it , anything is possible."
Aod's BA (Hons) Interior Design degree programme explores interior design as the creative response to space, and investigates key aspects of the subject. This learning experience takes place through a range of projects within the context of retail, branding and corporate identities, museums, exhibitions and event design, and even furniture and artifact design as part of bespoke interior space.
Sahil and Alaanah's win is an excellent example of how the nature of Aod's multidisciplinary design degrees empowers future creatives from their own separate bespoke disciplines to team up and tackle exciting design challenges or projects.
With multifaceted-ness, innovation, and adaptability at the core of Aod's teaching model, the university's curriculum is constantly evolving in response to current conditions while also anticipating future areas where design can be impactful.
As with all 3-year BA programmes at the country's pioneering design institution, Aod's BA (Hons) Interior Design and BA (Hons) Graphics & Visual Communication Design courses are also accredited by the globally-ranked Northumbria University, UK; founded on syllabi that explores not just concepts and theories, but also practical skills geared towards industry application. Through engaging lectures, tutorial guidance, project crits, workshops, competitions, live industrial projects, and work placements (secured by the university's long-standing local and international partnerships and alumni connections), during their study tenure, students are guided by experienced international faculty, and eventually equipped with the toolkit required to succeed across a wide spectrum of design roles and careers – with the added advantage of having been encouraged to develop their own individual identities as a designer.
From its much-vied-for address at the iconic Colombo Innovation Tower (CIT), Aod students also benefit greatly from world-class resources and state-of-the-art infrastructure – in addition to the advantage of being located within one of South Asia's most thriving hubs of creativity and innovation.
Other BA programmes offered by Aod include the BA (Hons) Fashion and Textile Design, BA (Hons) in Fashion Design and Marketing, and BA (Hons) Motion Graphics & Animation Design degrees – all laying the crucial groundwork in preparing students for now highly sought-after creative careers in the increasingly competitive and digitally evolving work landscape of the future.
AOD invites all O/L and A/L students looking to embark on an award-winning career trajectory to learn more about the university's diverse design degree offering. Enrolment for the September intake closes at 2nd October 2023. For more information, please contact Aod on 0775727772, email info@aod.lk or walk in between 9am and 5pm Monday to Friday – Colombo Innovation Tower, No 477, R A De Mel Mawatha, Colombo 04. www.aod.lk